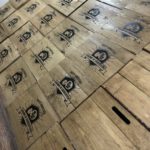 We recently completed making 300 wooden crates for Big Potato Games, London.
It took over 3km of timber and 30,000 nails to produce these in house, featuring a logo printed on the side, and on the lid.
The stain used was a UK made water-based stain, free from solvents and eco friendly.
If you would like to explore something similar for your business, get in touch!