Why are we FSC Certified?
What is FSC certified chain of custody and why is it important?
At Inspirwood, we're all about creating beautiful prints onto wood.
And we know that when it comes to using wood for our products and services, it's all about protecting and celebrating our forests.
That's why we take our commitment to sustainability so seriously, and are so proud to have been certified with the Forest Stewardship Council® (FSC®).
FSC chain of custody means that we can guarantee to our customers that the wood for their prints comes from forests that are managed sustainably and responsibly. We make sure that the wood is sourced ethically, so that we can help protect our environment and its incredible wildlife for future generations.
Plus, we actively support the planting of new trees, so that we can be sure that we're continuing to help protect the environment, as well as celebrating the forests we have.
We feel that our responsibility towards the environment goes hand-in-hand with our commitment to creating beautiful prints, and with FSC certification, you can be certain that you're getting the highest standards in sustainability and quality.
Our Full membership details can be found here.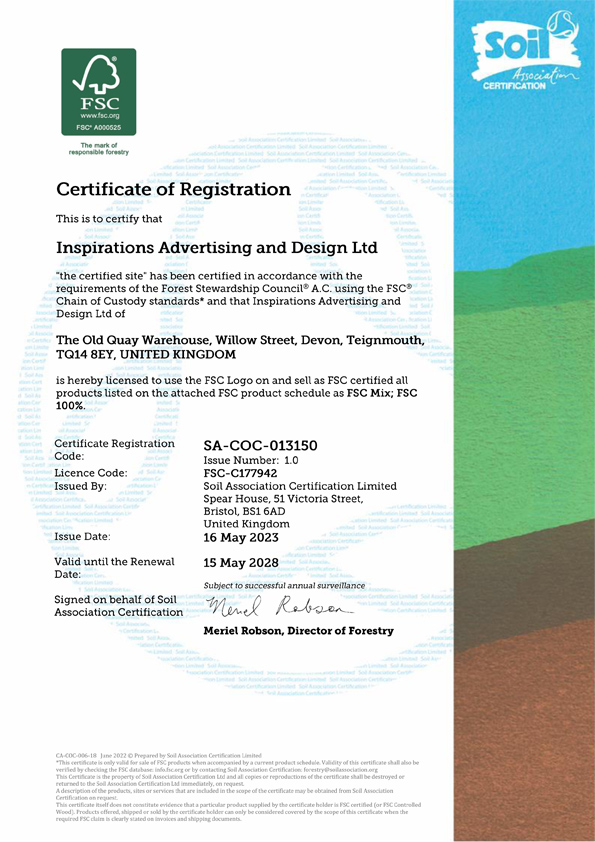 Wooden printing product schedule with FSC® Wood.
| | | | | |
| --- | --- | --- | --- | --- |
| FSC Status | Control System | Product Type | Product code | Species |
| FSC 100%, FSC Mix Credit, FSC Mix x% (min 70%) | Transfer System | Veneers | W7 | Entandrophragma cylindricum, Prunus serotina Ehrh., Juglans nigra L., Fagus sylvatica L., Acer spp., Fraxinus americana, Fraxinus excelsior, Quercus alba, and Quercus robur |
| FSC 100%, FSC Mix Credit, FSC Mix x% (min 70%) | Transfer System | Wood Panels, Hoarding and Signs | W8 | Pycnanthus angolensis, Entandrophragma cylindricum, Prunus serotina Ehrh., Juglans nigra L., Picea abies, Fagus sylvatica L., Acer spp., Fraxinus americana, Fraxinus excelsior, Betula pubescens, Betula pendula, Populus x canadensis, Quercus alba, Quercus robur, Pinus elliottii, Pinus taeda, Pinus sibirica, and Pinus sylvestris |
| FSC 100%, FSC Mix Credit, FSC Mix x% (min 70%) | Transfer System | Solid Wood Packaging | W10.1 | Chlorophora excelsa, Milicia excelsa, Fagus spp., Entandrophragma cylindricum, Pseudotsuga menziesii, Prunus avium, Prunus serotina Ehrh., Juglans spp., Juglans regia L., Juglans nigra L., Acer spp., Fraxinus spp., Quercus alba, Quercus spp, and Pinus spp. |
| FSC 100%, FSC Mix Credit, FSC Mix x% (min 70%) | Transfer System | Wall Clading | W11.7 | Pycnanthus angolensis, Entandrophragma cylindricum, Prunus serotina Ehrh., Juglans nigra L., Picea abies, Fagus sylvatica L., Acer spp., Fraxinus americana, Fraxinus excelsior, Betula pubescens, Betula pendula, Populus x canadensis, Quercus alba, Quercus robur, Pinus elliottii, Pinus taeda, Pinus sibirica, and Pinus sylvestris |
| FSC 100%, FSC Mix Credit, FSC Mix x% (min 70%) | Transfer System | Musical Instruments | W14 | Taxus baccata L., Chlorophora excelsa, Milicia excelsa, Thuja plicata, Entandrophragma cylindricum, Pseudotsuga menziesii, Prunus avium, Prunus serotina Ehrh., Larix decidua, Abies alba, Juglans spp., Juglans regia L., Juglans nigra L., Acer spp., Fagus sylvatica L., Picea abies, Fraxinus spp., Quercus alba, Quercus spp, Pinus spp., and Pinus sylvestris |
| FSC 100%, FSC Mix Credit, FSC Mix x% (min 70%) | Transfer System | Indoor Furniture | W12 | Pycnanthus angolensis, Entandrophragma cylindricum, Prunus serotina Ehrh., Juglans nigra L., Picea abies, Fagus sylvatica L., Acer spp., Fraxinus americana, Fraxinus excelsior, Betula pubescens, Betula pendula, Populus x canadensis, Quercus alba, Quercus robur, Pinus elliottii, Pinus taeda, Pinus sibirica, and Pinus sylvestris |
| FSC 100%, FSC Mix Credit, FSC Mix x% (min 70%) | Transfer System | Recreational Goods | W15 | Taxus baccata L., Chlorophora excelsa, Milicia excelsa, Thuja plicata, Entandrophragma cylindricum, Pseudotsuga menziesii, Prunus avium, Prunus serotina Ehrh., Larix decidua, Abies alba, Juglans spp., Juglans regia L., Juglans nigra L., Acer spp., Fagus sylvatica L., Picea abies, Fraxinus spp., Quercus alba, Quercus spp, Pinus spp., and Pinus sylvestris |
| FSC 100%, FSC Mix Credit, FSC Mix x% (min 70%) | Transfer System | Wooden Frames / Graphics | W16.1 | Taxus baccata L., Chlorophora excelsa, Milicia excelsa, Thuja plicata, Entandrophragma cylindricum, Pseudotsuga menziesii, Prunus avium, Prunus serotina Ehrh., Larix decidua, Abies alba, Juglans spp., Juglans regia L., Juglans nigra L., Acer spp., Fagus sylvatica L., Picea abies, Fraxinus spp., Quercus alba, Quercus spp, Pinus spp., and Pinus sylvestris |
| FSC 100%, FSC Mix Credit, FSC Mix x% (min 70%) | Transfer System | Stationery of Wood | W17 | Entandrophragma cylindricum, Prunus serotina Ehrh., Juglans nigra L., Fagus sylvatica L., Acer spp., Fraxinus americana, Fraxinus excelsior, Quercus alba, and Quercus robur |
| FSC 100%, FSC Mix Credit, FSC Mix x% (min 70%) | Transfer System | Ornamental & Decorative objects | W18 | Taxus baccata L., Chlorophora excelsa, Milicia excelsa, Thuja plicata, Entandrophragma cylindricum, Pseudotsuga menziesii, Prunus avium, Prunus serotina Ehrh., Larix decidua, Abies alba, Juglans spp., Juglans regia L., Juglans nigra L., Acer spp., Fagus sylvatica L., Picea abies, Fraxinus spp., Quercus alba, Quercus spp, Pinus spp., and Pinus sylvestris |