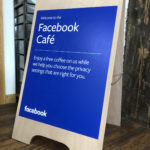 Have you ever been to a facebook café? Well, if you didn't know about them before, you might start to see these street signs popping up all over the country.
We have been making, printing and sending out facebook café boards recently for venues where you can learn all the aspects of this social media platform.
Made from sustainable wood, we printed these white and colour print onto the face of the boards, then constructed them up into Aboards that can be placed outside the drop in centres.
Mostly featured in libraries, civic centres and public venues, these boards make a big statement, white remaining cool, contemporary and sustainable.
Let us know if you see one!