Bespoke Chalk Board for Cafe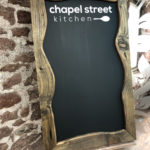 Have you ever been into a cafe or restaurant and looked at their specials board?
I do all the time, and normally find a really nice dish or cocktail that is amazing. However, they are all the same, plain chalkboards without any branding or thought to how they fit into the room.
This was the dilemma that Chapel Street Kitchen had, everything else was nice wood, rustic and cool, but they wanted to show off their specials in a nice branded way.
In step Inspirwood! We made up this rustic bespoke chalkboard sign for their point of sale, by printing their logo onto the backing board, and cutting some nice rustic wood for a frame.
They loved it!
If your looking for a bespoke chalkboard / specials board that you can be proud of, and for the same cost as an off-the-shelf board, get in touch!