Custom Wooden Award Trophies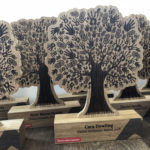 We are often approached to produce awards trophies for companies, charity events and events at inspirwood.
These trophies are made from sustainable solid European Oak to commemorate unity and diversity.
Designed by our in-house designers, the final oak trophies were first cut to the shape of an Oak tree, with a CNC routing machine, then the base was cut to size with a slot.
The Tree part was then engraved with a universal symbol of unity, while the stand was printed in full colour with the winner's name.
Glued together and oiled with natural Tung Oil, these look absolutely stunning, with a quality high end feel, for the same costs of a plastic off the shelf counterpart. We think we know which the recipient would prefer.
If your looking for a unique award trophy, made to order, in a sustainable timber, get in touch