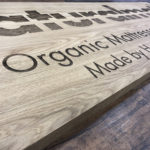 We are pleased to have worked with Naturalmat again on some showroom signage.
Naturalmat are makers of handcraft organic mattresses and beds for adults and babies, based on the banks of the river Exe, in Topsham, Devon. Their products are sold worldwide and are featured in many hotels.
We were asked to produce a 1.5m wide sign made from solid sustainable Oak, for their new showroom in Amsterdam, plus a plinth for sample jars.
We sourced, engraved and oiled the sign on 40mm solid oak, which looked very impressive. The plinth was cut with holes, engraved and edged before also oiling.
Nice and simple product point of sale, made sustainably in Devon by us. Do get in touch if we can help with your showroom signage.