If you are looking to print onto wood, Inspirwood have the printing solution for you. 
The experts in printing on wood
We are the UK's leading wood print specialists so we have the experience to make it happen. Using our unique blend of state-of-the-art printing machines, carpentry, laser cutting and CNC techniques, our design team can help make your project happen.
We work with all kinds of businesses from Design, Marketing and Events companies, to Retail,  Manufacturing and Artists.
Ask us for a quote or after some advice?
We are always happy to give advice and offer our quotes for you to consider. There's no obligation and we're quite friendly!
Designers: Our team can help you get creative on wood, adding white inks, foil blocking, gloss or matt varnish, spot UV. All great for highlighting your graphics creating embossing, braille and textured surfaces.
All items can be cut to shape, routed and engraved using our large laser cutting and carpentry equipment. Printing on wood: We are able to print onto amost any wooden item - signs, sports equipment, doors, veneers and thick boards. We can also print onto reclaimed wood, hardwoods and softwoods.
Wooden prints - no limit to size: We can print, and cut up to 2.5m in length and 1.4m width (large enough to take a standard 8x4ft sheet). And yet also produce items such as wooden labels and tags that can be down to 1cm, while maintaining high quality full colour print direct onto the wood surface.
"We received some wooden tags off of yourselves ... and I would like to thank you for the high quality and fast turnaround"
Some of the brands we work with: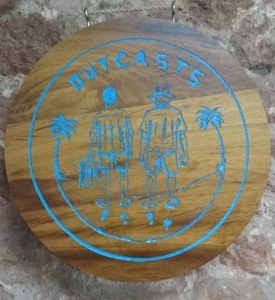 We recently made this beautiful sign from solid Iroko for a bagel and coffee food truck near Dublin, Ireland called Outcasts. There is quite a process involved in creating a piece like this so we thought we'd share…
Read More